Special Eligibility Scholarships
Main Content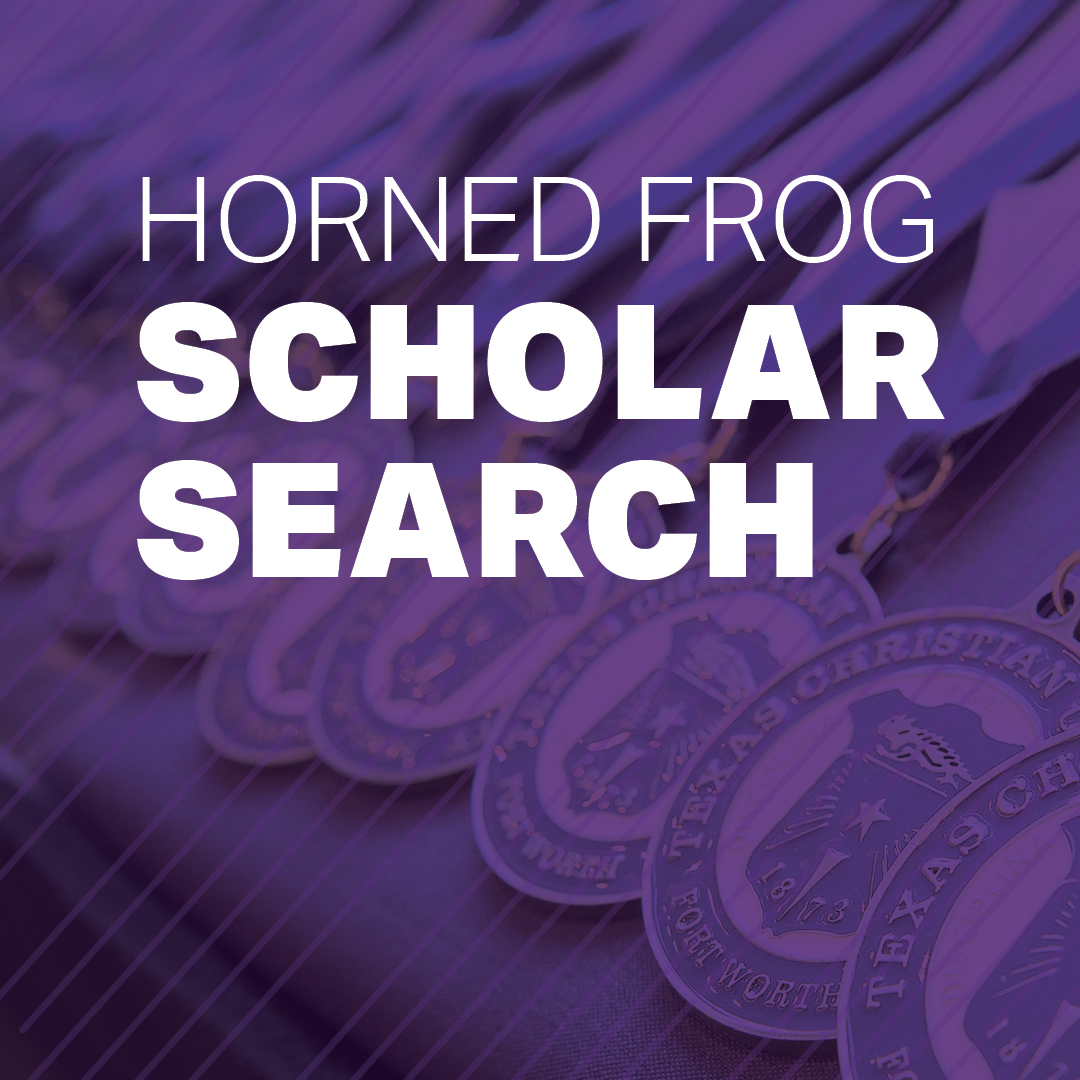 Connects Students With Specialized Scholarship Opportunities
The Horned Frog Scholar Search online search platform makes it easier for Horned Frogs to find and apply for scholarships. Created by the Office of Scholarships and Student Financial Aid, Horned Frog Scholar Search opened in January for the 2023-2024 academic year, giving current students access to more than $1 million in scholarship opportunities.
Profiles are automatically created for current students. Once they fill out a general application, students will be matched with open scholarship opportunities across campus. Answering a few additional questions can open up even more scholarship options.
How does Horned Frog Scholar Search work?
The platform pulls basic information (name, GPA, degree, etc.) into the system from university resources such as the Registrar's Office. The student then completes a "General Scholarship" application with detailed information (i.e., honors, awards, sorority/fraternity involvement) not available from other school sources. Upon completion and electronic submission, the system then recommends additional scholarships for the student based on these two sources. The student can choose to answer a few supplemental questions to be considered for those scholarships.
How does Horned Frog Scholar Search help students and families?
The platform makes information readily available to students about potential resources. They can log in at their convenience to research, apply and upload documents. Once students complete a general application, they are automatically matched by the system to scholarship opportunities based on specific scholarship criteria. The system also "recommends" additional applications for the student to complete for more scholarship opportunities. Incoming families can read the descriptions of more than 150 TCU scholarships that have application processes.
Are there any important deadlines students and families need to know about now?
Applications for the 2023-2024 academic year are available now for students to apply. Please see individual deadlines.
What if users have questions?
They can email the Office of Scholarships and Student Financial Aid at finaid@tcu.edu or call 817-257-7858.
Anything else Horned Frogs should know?
The Horned Frog Scholar Search platform is not an exhaustive resource of all TCU scholarships. Students should continue to apply for scholarships advertised by departments and campus organizations.
Additional Opportunities:
Amount: Varies
Eligibility: Undergraduate students of the Jewish faith are eligible to apply. Preference will be given to student applicants who demonstrate financial need as evidenced by the FAFSA.
Amount: Varies
Eligibility: Members, friends and family of the Black Alumni Alliance (BAA) established the BAA Scholarship in 2002. To apply, students will have earned 36 or more credit hours and have a grade point average of at least 2.7. Preference for an award is given to students who have financial need. The applicant must submit an essay of at least 500 words on the topic noted on the scholarship application. The student must demonstrate an active record of service to the TCU community by submitting a letter of reference.
Amount: $1,000
Eligibility: First-year students, admitted to TCU as a full-time, first time degree-seeking undergraduate student. Eligible students must have participated in the HOBY Leadership Program, demonstrated record of leadership and community service, and not be a recipient of a TCU Academic Scholarship. The scholarship is renewable through four years if the student meets Satisfactory Academic Progress requirements and maintains full-time enrollment.
The application process is open to students who indicate a career goal that demonstrates service to humanity. Awards range from $500 to $2,000.
Amount: $2,000 per year for up to 8 undergraduate semesters. Total Value $8,000.
Eligibility: Scholars must be designated as finalists by the National Merit Scholarship Corporation (National Merit or National Achievement) or the College Board (National Hispanic) and, for National Merit, officially designate TCU as their first choice. The level of the award will be based on SAT and/or ACT scores, GPA, rank in class, strength of curriculum and the level of competition in the current pool of scholarship candidates. This scholarship may be awarded in addition to another TCU scholarship if the total amount of institutional merit scholarship does not exceed the cost of tuition at TCU.
Amount: Varies
Eligibility: This award is for first-year TCU students, not awarded a merit scholarship at time of admission, whose cumulative GPA puts them at the top of their class at the end of the Spring semester. The cumulative GPA considered is based on graded hours only [P/NC do not apply]. The student is required to have completed 24 graded hours between the Fall and Spring terms.
Must be full-time nursing students, have a FAFSA on file and receive a recommendation from Dean of Harris College of Nursing. Must not be employed by a non-Harris Methodist Health System affiliated health care organization. Must maintain a 2.5 GPA.